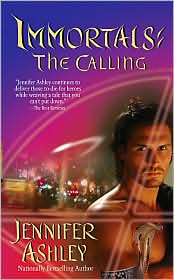 Lookie what arrived in my mailbox yesterday!
Seven centuries after his brother Tain disappears during battle, immortal warrior Adrian thinks he may have finally found him. The same demon that captured Tain has recently murdered a witch in Seattle. Adrian arrives in time to save the witch's sister, Amber Silverthorne, but once again the demon disappears without a trace. The only clue is in Amber's sister's notebook. Adrian must now work closely with Amber if he not only wants to find Tain but also keep dark magic from taking over the world. Deftly mixing dangerous adventure, dark magic, and a surfeit of scorching chemistry between her hero and heroine, Ashley creates an addictively readable romance, the first in a marvelously original new paranormal series that is bound to cast its own bewitching spell over readers.
I've had several people recommend this series to me and I was excited to see it arrive in my mailbox.  Will be letting you know what I think of it for sure!
~TCBL