You can find M. G. Braden here and her novel here.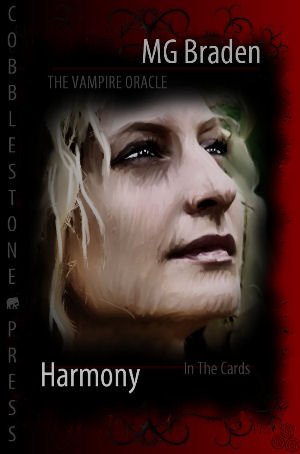 Recently engaged, Kara Staten and Marc Brodeur are in love, and Kara has a brand new business. Life is good. When things start to unravel, they struggle for the harmony they once had.
Unbeknownst to Kara, Marc's a vampire trying to live a normal life. When her skincare salon produces a special serum that results in several fatal love bites, she doesn't know where to turn. Hoping to keep her safe, Marc runs away. As their lives spin into separate paths, they find that what could tear them apart is the one thing that will ultimately keep them together.
I am always on the lookout for a good vampire story, especially one that breaks out of the usual stereotypes.  And while the ending was a bit common (although rather unexpected on my part), the story on the whole was very good, and different as well.
Marc does his best to pass as human and he had me fooled.  He was just your every day mild-mannered hotel exec taking it day by day… or was he?  Apparantly not!  And Kara, love that she not only had her own business but also that it was a salon.  Nice to see her putting her creative talents to use within the story as well. 
The only issue I had with the story in general was that it was too short.  Damn those word counts anyway!  And yeah, it goes both ways – the heavens only know I've run into entirely too many that should have been cut off several hundred pages sooner than they were… but I digress. 
Anyway, it wrapped up a bit too quickly for me. I'm a detail junkie (thanks sooooo much for THAT one Mr. King) and would have liked to know more.  But I was happy, I discovered what I needed to know and then moved on to the personal finish, which was very well done.  Marc and Kara got their HEA and it made for a nice finish to the story.  Overall, I loved it and would certainly reccommend it to anyone, vamp lover or otherwise.