In traveling to Toys 'R' Us to buy a birthday gift for a friend's child, my husband makes the mistake of suggesting we go into Borders for a drink and a lookie-loo.  He ought to know by now that me and lookie-loos do not go together well.
Especially not when said bookstore is having a buy two, get one free sale.
<insert evil laughter here>
Soo... this is my haul (and I want to preface this by saying HE STARTED IT - I'd have been happy with three paperbacks but he HAD to show me Drizzt!!):
The Pirate King (Transitions, Book II) - R. A. Salvatore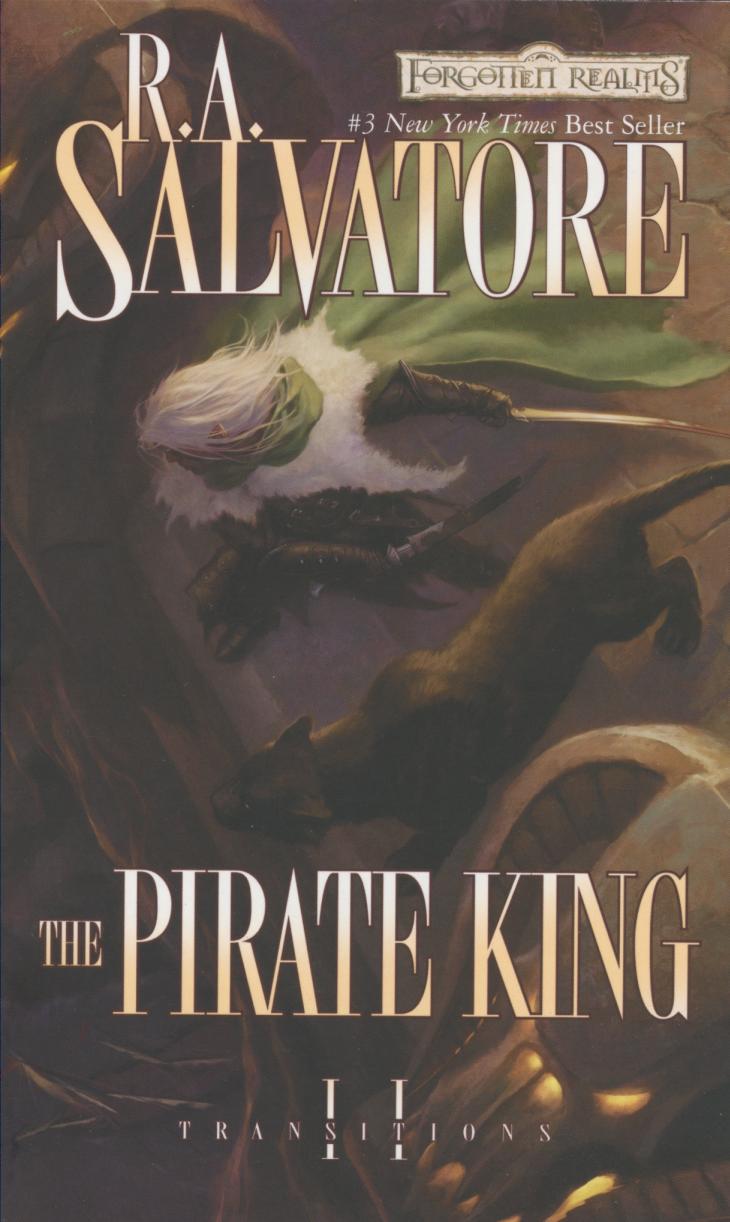 Luskan in flames!
The Arcane Brotherhood, a cabal of powerful wizards with a dangerous secret agenda, have infiltrated the Hosttower of the Arcane, seizing control of the port city of Luskan. No one has been able to stand against them, and their iron hand is beginning to squeeze the life blood from the city. Captain Deudermont doesn't like what he sees, and is determined to save Luskan from the Arcane Brotherhood -- and itself. But he may be not be able to do both.
The Stowaway (Story of Tymora, Volume I) - R. A. and Geno Salvatore
From the author of more than a dozen New York Times best sellers and his son, comes the first installment of a brand-new fantasy trilogy written just for young readers...
Barely a teen and already guarding a secret that could jeopardize his young life, Maimun is marked for death. With the help of a mysterious stranger, the boy escapes his village and flees out to sea, stowing away on the pirate hunting ship, Sea Sprite, where he comes across a most unlikely ally: the dark elf Drizzt Do'Urden. With a half-demon determined to destroy him, and a crew of sailors resentful of the trouble he's caused, Maimun must find the courage to prove his worth, both to his friends and to himself.
Nearly two decades ago, R.A. Salvatore introduced the world to Drizzt Do'Urden in a series that has since become a fantasy classic and a consistent presence on best seller lists. Now, for the first time, Salvatore partners with his son Geno to craft a brand-new story just for young readers, featuring a cameo of the most beloved fantasy character of all time.
For young readers seeking the next great fantasy saga or for long-time fans who can't miss any installment in the Drizzt saga, this book delivers all the action, intrigue, and magic you've come to expect from the Salvatore name.
Living With the Dead (Women of the Otherworld, Book 9) - Kelley Armstrong
When Robyn Peltier—a very human PR rep—is framed for murder, the two people most determined to clear her name are half-demon tabloid reporter Hope Adams, and necromancer homicide detective John Findlay.  And suddenly Robyn finds herself in the heart of a world she never knew existed—and which she is safer knowing nothing about....
And ya know what?  I got the most expensive book, The Pirate King ($27.95), for FREE because it was 40%, thus making it the lowest priced book.  LOL  So, I got THREE hardcovers ($17.95, $22.00, and $27.95) for $43.  Not too shabby, huh?  LOL
Now I've just gotta find some time to READ!!!